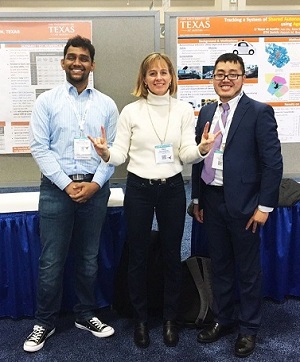 The Center for Transportation Research (CTR) is a multidisciplinary and multimodal research institute at The University of Texas at Austin. Recognized as one of the leading university-based transportation research centers in the world, our researchers, faculty members, and students work together to promote cutting-edge developments in transportation science and technology.
Expertise and funded projects include topics such as Economics, Multimodal systems, Traffic congestion relief, Transportation policy, Freight and rail, Materials, Bridges and structures, Public transit, Environmental impacts, Driver behavior, Accessibility.
Research Program
In a given year, CTR administers between 150 and 200 research projects and interagency contracts with combined budgets exceeding $12 million. Research includes projects for the Texas Department of Transportation (TxDOT), National Science Foundation (NSF), United States Department of Transportation (USDOT), Transportation Research Board (TRB), Federal Highway Administration (FHWA), Federal Rail Administration (FRA), Department of Homeland Security, City of Austin, Capital Metro, Capital Area Metropolitan Planning and Operations (CAMPO), North Central Texas Council of Governments (NCTCOG), and many others.
In addition to its own staff researchers, the center taps into an extraordinary range of expertise in multiple disciplines by collaborating with affiliated research centers across the University of Texas at Austin.
Students play an integral on role in research, working side-by-side with researchers and faculty members to gain the real-world experience they'll need to succeed after graduation.
Education
CTR's capacity for linking research with education exceeds that of any other Texas institution. With more than 200 graduate and undergraduate students engaged in its research programs annually, the center plays a critical role in developing and maintaining a qualified pool of engineers and researchers to serve both public and private agencies across the world.
Innovation
Our researchers conduct cutting-edge research across a wide variety of fields. As technology continues to expand our capabilities, we continue to push the boundaries of how new technologies can benefit the broader goals in transportation engineering and research. Interdisciplinary research and education is a cornerstone of meaningful innovation designed to benefit our infrastructure, economies, and society as a whole. We explore new wireless technologies, autonomous vehicles, big data, environmental advancements, and many other fields to expose our students to the very latest advancements, which will in turn enable them to be the transportation thought leaders of tomorrow.
Our collaborations include the Texas Technology Task Force, the Data Rodeo, and the Texas Innovation Alliance.
Library Facilities
The CTR Library contains all reports published by the center and serves as the official repository for the Texas Department of Transportation (TxDOT) Research Program.
In addition, CTR has access to the University of Texas at Austin facilities including one of the largest library holdings among academic institutions in the world. The University of Texas Libraries also provides access to major online bibliographic, publication, and research and retrieval database services.