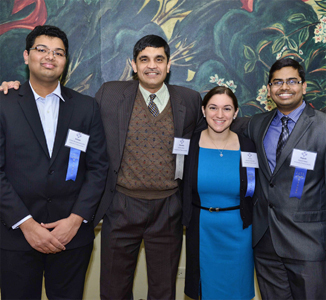 In 1963, Dr. Clyde Lee founded the Center for Highway Research in an effort to establish a transportation research program at the University of Texas. The program's initial focus was to participate in transportation research for the Texas Highway Department, now the Texas Department of Transportation. From the beginning, Dr. Lee's focus was to provide a better educational environment for students and learning.
"I always insisted that the purpose of the research was to support the academic program of The University… A university without an academic program is not a good research outfit." —Dr. Clyde Lee
Dr. Lee's early research success focused on weigh-in-motion, a process allowing large highway loads to be weighed without stopping. Among the leading innovators in the area, one of Dr. Lee's most important contributions was the introduction of what is now an international standard for weigh-in-motion.
He held the position of Director for 17 years. Under Dr. Lee's guidance the center quickly established its position as one of the top university-based transportation research centers in the world.
In 1979, the Center for Highway Research merged with the Council for Advanced Transportation Studies to form the Center for Transportation Research.
The late Dr. B. Frank McCullough succeeded Dr. Lee as Director in 1980 and continued the center's mission for 19 years until 1999. Dr. McCullough was known internationally as the father of continuously reinforced cement concrete pavement and for his pioneering and sustained development work on continuously reinforced, post-tensioned, and precast concrete pavements.
Dr. Randy B. Machemehl served as Director of the Center for Transportation Research from 1999–2012. His expertise covers a broad range of research, including: transportation system operations, public transportation systems planning and design, traffic data acquisition, traffic simulation, optimization, and bicycle safety. He continues to serve as a distinguished faculty member and advises many projects associated with CTR.
Dr. Chandra Bhat served as Director at CTR from 2012-2017. As one of the world's most widely regarded transportation researchers in his field, his areas of expertise include: activity and travel behavior analysis, travel demand modeling, application of econometric, discrete choice and market research techniques in transportation planning, traffic flow theory and operations, logistics and freight modeling, energy and transportation air quality analysis, and safety analysis.
Dr. Amit Bhasin was named director in 2018.
---
CTR annual reports are available in the library's archive.