Research Digest, April 2020: TxDOT Research
The April 2020 issue of the Research Digest is now available for download from the CTR Library's website.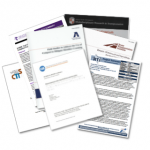 This month's digest provides abstracts for 9 recent publications from the research program sponsored by TxDOT's Research and Technology Implementation Division​ (RTI).
The research projects represented here cover a wide range of topics. This issue includes reports on non-contact splices at drilled shaft to bridge column interfaces; noise abatement and performance evaluation of a next-generation diamond grinding treatment for concrete pavements; and a December 2019 data update to the One-Stop Demographic Data Analysis Tool. Links to full-text PDFs for each publication are provided in the digest.
To stay up-to-date on all the latest research published through different transportation programs, you can visit the library's online c​atalog​. We provide links to online full-text of reports in our catalog when publishers make that content available for free.
Free registration on the library's catalog portal will allow you to create monthly, weekly, or daily​ email alerts or RSS feeds from the searches you perform in your area of interest.
Save