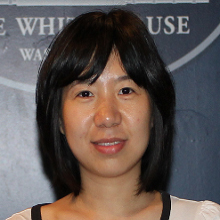 Ph.D., PE
Research Associate
Quick Facts on Nan Jiang
Earned a Ph.D. degree in Civil Engineering (Transportation) from The University of Texas at Austin, an M.S. degree in Transportation Engineering from Tongji University in Shanghai, China and a B.S. in Transportation Engineering from Huazhong University of Science and Technology in Wuhan, China
Manages the Freight Modeling Lab which conducts freight related studies including commodity flow modeling, economic analysis of freight corridor improvement projects, urban freight study, truck size and weight study, etc.
Has a wide range of background in transportation, including network modeling, travel demand modeling, freight modeling, truck size and weight study, safety and traffic analysis.
Has been or is currently involved in various projects with a wide range of topics including freight value; freight project economic analysis; pavement, bridge and safety impact of oversize/overweight vehicles; wildlife crossing; autonomous and connected vehicle, etc.
Acted as reviewer for various journals and conferences including Transportation Research Part B, Part C, Transportation Research Record, International Journal of Sustainable Transportation, Optimization Methods and Software etc.
Areas of Research
Freight Modeling and Planning: sustainable urban freight systems, truck platoon, freight data
Transportation sustainability: electric vehicles, environmental impact of transportation and safety
Regional and Urban Network Modeling: traffic assignment, network routing, and network design
Infrastructure Systems: facility location optimization, infrastructure investment, project selection