Self-Driving Vehicles a Major SXSW Topic
Self-driving vehicles were a wildly popular topic at this year's South by Southwest (SXSW) conference, with at least eight panel discussions alone addressing the issues raised by the introduction of autonomous vehicles (AVs) to US roadways. Naturally some of CTR's resident AV experts were called upon to present.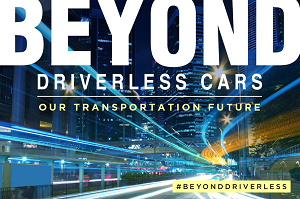 CTR Director Chandra Bhat was on a March 14th panel that also featured former Secretary of Transportation Anthony Foxx as well as representatives from Allstate and Fast Company. Titled Beyond Driverless Cars: Our Transportation Future, this session focused on the unprecedented levels of cooperation required of the public and private sectors, an extensive series of alignments that will nevertheless confer substantial network benefits: "Every day, parking lots are full of empty cars, sitting idle, costing Americans trillions of dollars to own and maintain. Americans only utilize their cars about 5% of the time, yet cars represent a huge investment of our income. All of that is about to change, and it is the biggest economic opportunity in America."
Kara Kockelman and Lisa Loftus-Otway had a packed house for their AV presentation on March 12 at the Austin Chamber of Commerce. Titled "Assimilating Self-Driving Cars into Our Society," this presentation addressed "the difficult regulatory issues surrounding introducing self-driving cars onto our roadways. Many novel questions will be discussed, such as how to allocate liability for an autonomous vehicle, the self-driving cars' impact on public transportation and infrastructure, and personal privacy concerns." View the PowerPoint presentation. Ms. Loftus-Otway authored a related article in Reverie Report, providing an in-depth introduction to the regulatory issues covered in the SXSW presentation. Helping address the legal aspects during the presentation was Alex Alex Shahrestani, Editor-in-Chief of UT Austin's Journal of Law and Technology at Texas (JOLTT).
While the prevalence of the topic at a technology conference signals widespread enthusiasm for the technology, CTR professor Christian Claudel, an expert on the sensor technology in AVs, noted that the current technology is not quite ready for full automation. "You need to get to a point where the system becomes more reliable than a human, but I feel within the next decade we should reach this point," Claudel said.
The Austin ABC News affiliate highlighted the Kockelman/Loftus-Otway presentation in an article about the popularity of AV discussion, while other media outlets focused on the demonstration of a self-driving minibus. Partnering with Capital Metro and RATP Dev, CTR was integral to bringing an EasyMile EZ10 fully autonomous shuttle to the UT Austin campus for two days of demos that were open to the public. The 12-passenger, all-electric EZ10 ran pre-determined routes on a closed course in parking lot 37 (2300 Red River Street).
The demonstration was designed to illustrate how Capital Metro and RATP Dev are working together to provide new and innovative ways for people to move around Austin, while helping to reduce emissions that can damage the environment. "Because transit is not a one-size-fits-all solution to mobility challenges, we are actively working to identify cost-effective technologies that will allow us to better match our services to the needs of the community," said Wade Cooper, chairman of the Capital Metro board of directors.
RATP Dev, operating as McDonald Transit, has been Capital Metro's largest bus service provider since 2012. RATP Dev helps Capital Metro manage and operate its 269-vehicle fleet, providing more than 22 million rides per year, including expanded services to accommodate large increases of visitors during many of Austin's most popular attractions, such as the SXSW festival, Austin City Limits and Formula 1 racing.
This demo event "is a great example of Capital Metro and RATP Dev's joint commitment to building a public transportation system where new autonomous technologies work in collaboration with existing public transit solutions, while providing safe and environmentally friendly vehicles," said Blaine Rigler, vice president of bus at RATP Dev and President of McDonald Transit.
The demo proved quite popular, judging by the enthusiast tweets about riding on the bus, and was covered by the Austin Chronicle, local NPR affiliate KUT, Community Impact, and Mass Transit. Also on hand were the CTR vehicles that are equipped with connected technologies, including object detection via camera and radar fusion; LIDAR (Light Detection and Ranging) mapping; DSRC (dedicated short-range communications); and millimeter-wave data transfer (at up to 4 gigabytes per second). These specially equipped vehicles were acquired in connection with a TxDOT-sponsored research project entitled Communications and Radar-Supported Transportation Operations and Planning (CAR-STOP). Connected technologies (which enable vehicles to communicate with each other and with roadway infrastructure) will be essential to the operation of self-driving vehicles.