Texas Mobility Summit Advances a Statewide Strategy for Transportation Innovation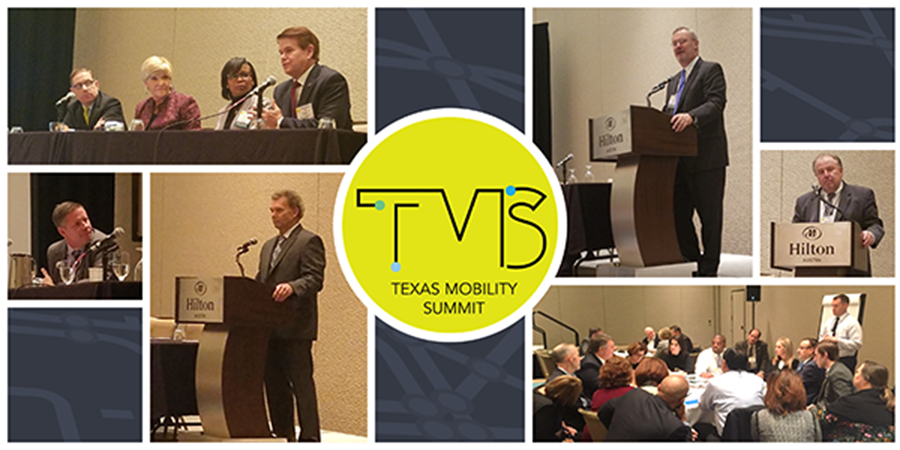 AUSTIN, TX – The Texas Mobility Summit brought together teams representing ten Texas cities and three research institutions in Austin on December 1-2.  Hosted by the Texas Department of Transportation's (TxDOT) Texas Technology Task Force, the Summit is the first step in a strategy that would put Texas on the path to becoming the nation's first 'Smart State', creating a platform for innovation to address community challenges.  The Task Force (a CTR-administered project) in partnership with the City of Austin launched the Texas Mobility Summit to encourage public-private investment in innovation.
The teams in attendance—Arlington, Austin, Bryan-College Station, Corpus Christi, Dallas-Fort Worth, El Paso, Houston, San Antonio, as well as a team made up of researchers from the University of Texas at Austin, the Texas A&M Transportation Institute, and the Southwest Research Institute—expressed their commitment to continuing the collaboration, leveraging their collective resources, expertise, and opportunities.
As we usher in the next generation of technologies, a paradigm shift has already begun in transportation. Emerging technologies—including connected and automated vehicles, predictive data analytics, and sensor-based infrastructure—necessitate expertise, public-private partnerships, and a pilot-learn-scale model of deployment. Furthermore, with five of the nation's fifteen fastest growing cities located in Texas and the population expected to more than double by the year 2050, Texas seeks to manage this disruption proactively rather than allow rapid urbanization to stifle the state's economy.
"We are living in an era of great transformation—changes in our population and demographics, changes in how people work and how they shop or consume products, the rise of the sharing economy, and new developments in emerging technologies," said James Bass, Executive Director of TxDOT.
Building upon the momentum of the USDOT Smart City Challenge, in which Austin was a finalist, the Summit served as a catalyst to galvanize key leadership in transportation across the state.  On Day 1 of the Summit, public agencies, research institutions, and industry representatives all worked together to develop a common vision for the future of Texas mobility.
"When communities come together to collaborate they have the power to accelerate the pace of change by applying 21st century solutions to today's problems.  This Summit is a great example of the collective power of cities to think outside of the box on how technology can help address community needs," said Mark Dowd, former USDOT Deputy Assistant Secretary and the architect of the Smart City Challenge.
Teams prioritized initial activities for a potential Smart State Consortium and took their first step by joining forces with the Texas A&M University System (TAMUS), the University of Texas at Austin Center for Transportation Research (CTR), and Southwest Research Institute (SwRI) in applying for the USDOT Designation of the Texas Automated Vehicle Proving Ground Partnership.
"I think we need to be looking at all of these different new technologies and I think that the federal government could really help with the expertise to actually try them out in different cities to find out what is the best, because right now we don't know," said Mayor Jeff Williams of Arlington.
The main takeaway from Day 2 was that support for innovation in transportation is coming from all levels, including elected leadership.  Representative Joe C. Pickett, Chairman of the House Transportation Committee, shared his thoughts on technology applications, including connected and automated vehicles.
"Technology is a great tool and I challenge all of you innovators to use the technology to fix the shockwave effect, help keep cars in their lane, and find innovative ways to keep traffic moving," said Chairman Pickett.
In the Mayors Panel, moderated by Evan Smith of the Texas Tribune, Mayors Betsy Price of Fort Worth, Ivy Taylor of San Antonio, and Jeff Williams of Arlington described challenges facing Texas cities, the importance of public-private partnerships, and the need for Texas to prioritize multimodal and innovative investments.
"Multimodal access has to move to the forefront of people's minds," said Mayor Betsy Price of Fort Worth. "We are working together to transform the quality of life for our citizens."
"For a variety of historical reasons, some of our residents are isolated in inner city neighborhoods that are poorly served with retail and strong educational options as well as opportunities for jobs," said Mayor Ivy Taylor of San Antonio. "It really is imperative for them to be able to have the mobility options to connect with opportunities that are in other parts of the city."
Teams across Texas shared their visions for reimagining mobility as a service in their communities – including solutions to better connect people to jobs using a shared fleet of driverless vehicles, a multimodal app that would help people plan and pay for door-to-door transportation options, and sensor-based infrastructure to support data-driven decision making.
The teams are all committed to continuing the conversation and are creating an agenda for collective action.  The initiative will continue to be carried forward by champions across the state, including TxDOT, the City of Austin, and an alliance of mobility partners.
"The very first fully driverless vehicle trip took place in Austin last year when an automated Google car took a blind man to the doctor in one of our residential neighborhoods. Austin is now the Kitty Hawk of driverless vehicles because we are a creative and innovative city," said Austin's Mayor Steve Adler.  "We should all be proud that a Texas city is where such a huge leap forward can take place, and I look forward to working together with other Texas cities so we can pioneer creative partnerships with other innovators."
"What I think is fantastic, is that it is a locally driven effort.  All the teams that were ready or able to be a part of this speaks to the power of what we are trying to do – public, private, and research interests all serving together to advance the state. TxDOT looks forward to being a partner and enabling each one of these efforts in different ways," said Darran Anderson, Director of Strategy & Innovation at TxDOT.
The USDOT anticipates that the selection of the initial Automated Vehicle Proving Grounds will be completed during the first quarter of 2017.  The next meeting of the teams will coincide with the Texas Transportation Forum in February. The Task Force will share additional information regarding upcoming activities. Through continued partnership development, Texas is committed to being the leading model of collaboration and innovation.