CTR Vet Khali Persad Retiring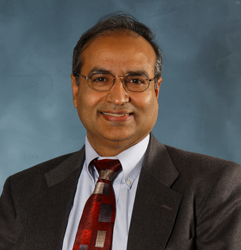 CTR is sad to announce that veteran researcher Dr. Khali Persad has retired. Khali is leaving us to spend more time with his grandchildren and possibly visit his birthplace, Trinidad. We'll miss his sense of humor and grounded presence.
Khali was a pro in the engineering game, with over 30 years of construction, design, management, and research experience, including over 12 years at the TxDOT as a special projects engineer and research engineer, and over 13 years at CTR as a researcher. He earned his PhD in Civil Engineering from UT in 1989.
At TxDOT, Dr. Persad was a research engineer in the Research and Technology Implementation Office, where he coordinated over 150 research projects. He was also responsible for managing TxDOT's $5 million annual research implementation program. He was known for being proactive in developing a range of projects and skilled in creating a balanced research program.
Here at CTR, Khali served as the research supervisor or primary researcher on diverse TxDOT projects over the years, such as those on Intelligent Transportation Systems (ITS) and tolling technologies, traffic operation issues, freight movement, and infrastructure construction. His name pops up in a CTR Library Catalog search 57 times—a testament to his wide-ranging skill set. CTR's Deputy Director, Rob Harrison, noted that Khali's background in both research and implementation gave him—and CTR—an edge in one key area: "He was excellent at writing proposals. He knew just what they were looking for."
In addition to his research activities, Khali taught engineering courses as an adjunct professor. Many students benefited from his careful mentoring.
Khali's long-time colleagues offered these words on his career and contributions:
My experience with Khali was that he was a complete professional.  From his engineering experience and education, Khali brought new technical expertise to CTR and through his management experience, maturity, and character, he brought leadership and guidance.   Dr. Randy Machemehl, CTR Director 1999–2012

Khali was not only a productive researcher in his own right, but was also instrumental in creating opportunities for multiple CTR faculty members and multiple students to contribute to the profession. Indeed, he served the very important role of being the bridge among faculty members, researchers, and students.   Dr. Chandra Bhat, CTR Director 2012–present
Finally, Rob Harrison offers a fond farewell to our long-time comrade, "All of us at CTR send our best wishes to Khali in his future endeavors."