Research Digest June 2015: SWUTC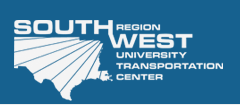 CTR Library's  June 2015 issue of the Research Digest is now available for download. This month's digest provides abstracts for 11 recent publications from Southwest Region University Transportation Center (SWUTC). The SWUTC is a consortium of five universities (Texas A&M University System, The University of Texas at Austin, Texas Southern University, Louisiana State University, and the University of New Orleans). All research from SWUTC supports the theme of Sustainable Transportation Solutions to Enhance Economic Prosperity and the Quality of Life.
Abstracts and full-text links are provided for each report. Print copies may also be available at the library; in some cases we may have spare copies to give away. Please contact the library if you are interested in a copy.
To stay up-to-date on all the latest research published through different transportation programs, visit the library's catalog portal to browse new publications or follow @ctrlib on Twitter.
When publishers make their reports available online for free, CTR Library provides links to the online full-text in our catalog.
Save
Save