Mike Engelhardt Receives AISC Lifetime Achievement Award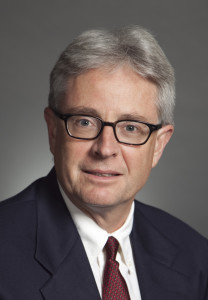 Professor Michael Engelhardt is a recipient of the American Institute of Steel Construction (AISC) Lifetime Achievement Award that will be presented at the spring 2015 NASCC Steel Conference.
AISC's Lifetime Achievement Award honors individuals who have made a difference in the structural steel industry's success and recognizes their outstanding service over a sustained period of years to AISC and the structural steel design/construction/academic community.
Engelhardt is the DeWitt C. Greer Centennial Professor of Civil Engineering at the University of Texas at Austin, where he's served on the faculty since 1989 and has excelled at both teaching and research. His teaching philosophy, for which he's received numerous awards, is to "present information in a manner that allows students to see simplicity and clarity in seemingly complex subjects." His ability to accomplish this comes from a deep understanding of the subject and results in a valuable learning experience for his students.
Also a talented and world-recognized researcher, his research interests are in the areas of seismic-resistant design of steel structures, steel and composite bridges, and structural fire engineering.
His contributions to AISC have been invaluable; he has generously shared his teaching talents with the institute as an excellent continuing education provider, serving frequently as a lecturer for AISC seminars, short courses and NASCC sessions. In addition, he serves as a member of the AISC Committee on Specifications, the AISC Seismic Specification Committee, and the AISC Connection Prequalification Review Panel.
He received AISC's prestigious T.R. Higgins Award in 1999 for his outstanding research in Reduced Beam Section Moment Connections, and in 2008 he earned an AISC Special Achievement Award for his pioneering contributions to the development of Eccentric Braced Frames.
Source: http://www.caee.utexas.edu/news/551-engelhardt-s15