Congratulations to Dr. Boyles and students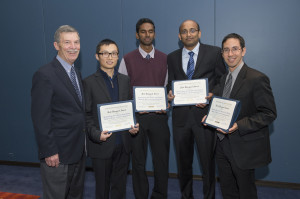 Assistant Professor Stephen Boyles and three of his students (Shoupeng Tang, Tarun Rambha, and Reese Hatridge) will be honored with the Fred Burggraf Award for their paper Modeling Parking Search on Network Using Stochastic Shortest Paths with History Dependence. The award recognizes excellence in transportation research by researchers 35 years of age or younger.  "Such awards recognize the quality of our outstanding faculty, and also reflect well on our CAEE community," says CAEE Department Chair Rich Corsi. Dr. Boyles will receive the award at the January meeting of the Transportation Research Board in Washington, DC.at the January meeting of the Transportation Meeting Board in Washington, DC.
The Fred Burggraf Award was established in 1966 to stimulate and encourage young researchers to contribute to the advancement of knowledge in the field of transportation. The award is accompanied by a cash prize and was named in honor of the late Fred Burggraf, who served as the Board's director from 1951 until his retirement in 1964.