Director: Congratulations to Graduates!
Friends of CTR-
Pride, joy, and optimism. These are the feelings I experience each May, as I watch our graduates receive their diplomas, each graduate exuding a palpable sense of confidence and accomplishment. Their hard work in the classroom, late nights in the lab, countless hours of studying and conducting research — it all comes to fruition during graduation.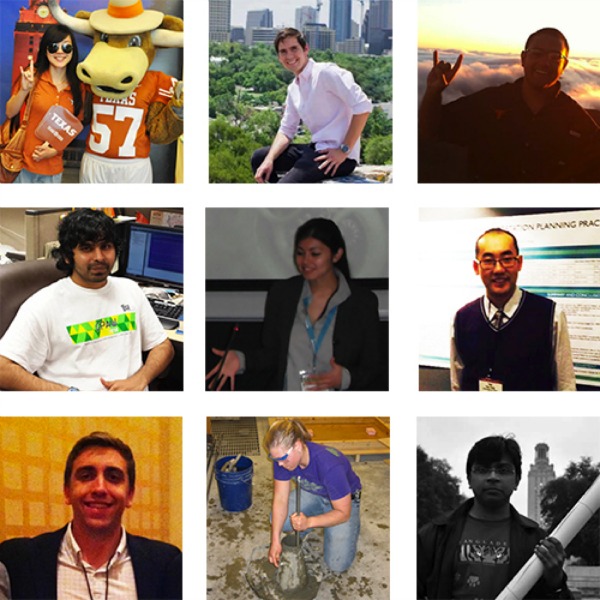 As professors and researchers, we are tasked with preparing these individuals to navigate the complex challenges of tomorrow, and employ advanced technical and communication abilities to successfully meet these challenges. The students that graduate from our programs are some of the brightest transportation engineers in the world. Our expectations of our students are lofty, and they consistently rise to meet them.
Under the guidance of Dr. Zhanmin Zhang, Cody Stone worked to create a methodological framework for the economic evaluation of existing roadway assets. Cody earned his M.S., and will start work at Alliance Transportation Group this summer.
Advised by Dr. Fernanda Leite, Li Wang's doctoral work focused on knowledge formalization and reuse in new building projects. Li worked on the TxDOT project "Work Zone Safety for Very Short Duration Operations", as well as a FIATECH project on automated code compliance checking.
Under the guidance of Dr. Amit Bhasin, Nazmus Sakib earned his M.S. while studying asphalt technology, and the constitutive behaviors of fine asphalt mortar. Nazmus would like to become a professor, and has been admitted to our doctoral program.
Christian Armstrong earned his M.S. under the guidance of Dr. Jorge Zornberg. Christian's primary research project involved the development of a new centrifuge-based method to quantify expansive soil deposits. He plans to further his research in the doctoral program at UT Austin.
Advised by Dr. Jorge Prozzi, Maria Burton's research was in the area of pavement management. As part of her master's studies, Maria worked to estimate pavement damage due to oversized and overweight trucks in Texas, and helped determine best management practices for narrow pavement widening.
Under the guidance of Dr. Maria Juenger, Juan-Pablo Gevaudan received his B.S. while researching alternative supplementary cementitious materials. While working on a TxDOT project, he learned many analytical techniques to help make concrete more durable. This August, he will pursue his doctoral studies in Architectural Engineering at the University of Colorado at Boulder.
Also advised by Dr. Juenger, Lisa Burris' doctoral studies were in construction materials research, specifically the characterization and performance of cement-based systems. In her dissertation, she explored the improvement of natural zeolite minerals to be used as a fly ash supplement, which makes concrete stronger and more durable. After graduation, she will move on to the University of Georgia to pursue her postdoctoral work.
Rohan Shah earned his M.S. under the guidance of Dr. Stephen Boyles and worked as a member of the Network Modeling Center at CTR. His areas of research focused on dynamic traffic assignment, emissions modeling, and sustainable transportation.
Advised by Dr. Ming Zhang, Hao Pang examined land use and the transportation planning process to earn his M.S. in Community and Regional Planning.
Working in the CTR Library, Marcia McIntosh gained valuable experience in large digitization projects, cataloging projects, and a variety of duties essential to running a successful research library. As a student of UT's School of Information, she earned her MSIS, and has now moved to the Dallas area.
Even as they worked toward their degrees, these students played critical roles as research assistants to CTR faculty and researchers. Indeed, providing such experiential learning opportunities to our students is an important mission of CTR. At the same time, it is because of these students that we are able to pursue pioneering efforts to improve transportation safety and accessibility, and enhance the economic vitality and the social vibrancy of our region, our state, and our country.
Congratulations to all our recent graduates. Do keep in touch, and thank you for your many contributions to CTR!
Hook 'em!
Chandra Bhat
Director, Center for Transportation Research
Posted by CTR | Category : Students