Graduate Profile, Hao Pang, M.S.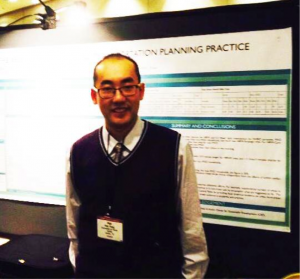 Hometown: Jiuquan, Gansu, China
Advisor: Dr. Ming Zhang
Area of research: Integration of land use with transportation planning process
How does it feel to be graduating?
I feel so excited that I will graduate soon. The Master's study at the University of Texas at Austin provided me with opportunities to better understand a city from a broad view and the relationship between urban form and transportation. Now I feel confident to be either a transportation planner or a scholar pursuing further academic achievement in the future.
Why did you choose to pursue your graduate studies at UT Austin?
After my undergraduate program in Peking University, I found my interest in transportation issues and wanted to get the advanced education abroad. When I was confused about where to go, Dr. Changchun Feng, my mentor in Peking University gave me the resume of Dr. Ming Zhang who is the Associate Professor in UT at Austin. I found his research interest is also what I want follow and concentrate on. So I applied the Master degree of CRP in University of Texas at Austin and then very luckily, I got admitted.
Looking back, who influenced you the most during your time at UT Austin?
There is no doubt that Dr. Ming Zhang is the one who influenced me the most. Starting from January of 2013, I worked with Dr. Zhang and assist him with 4 projects. Those experiences above does not only gave me enough hands-on experience on the projects in real world, but also provided me with topics which I want to focus in the future academic career life.
What projects did you work on while you were here?
CTR-related projects included:
The SWUTC project: Identifying the Local and Regional Travel Effects of Activity Centers in the Austin, Texas Area
Others projects I worked on included:
Project Connect, sponsored Center for Sustainable Development, co-sponsored by City of Austin
The 2040 Long-Range Transportation Planning, as an intern with Capital Area Metropolitan Planning Organization (CAMPO)
Sustainable Place Projects, sponsored by Center for Sustainable Development, University of Texas at Austin
What are your plans after graduation?
I have been admitted by the Ph.D. program of Community and Regional Planning at University of Texas at Austin. I will focus on my research the next couple of years.